Lorne Park

Lorne Park is Brantford's famous showcase horticultural park. Formerly part of the riverbed, it was low lying until it
was gradually filled in after the first dikes were built.


In 1914, a study by Dunnington Grubb, a famous landscape firm, suggested that the city buy the property to enlarge Cockshutt Park as far as Lorne Bridge.

By 1920 this land had been acquired to beautify the western entrance to Brantford at the river crossing. For a short period the site was a miniature golf course called Pickwick Park.

By 1936 Lorne Park was laid out in formal flower beds.
At that time it also featured a bathing area.

The plantings on the south facing slope are changed annually to celebrate various important occasions. This is known as carpet bedding, an art which began in the 19th century. Victorian travelers collected delicate foreign plants and gardeners started them in greenhouses. In late spring they set them out in their gardens in intricate patterns, like oriental rugs. Displays like this must be carefully planned and executed and are very labour intensive. Today, Brantford's carpet beds are among the finest in Canada.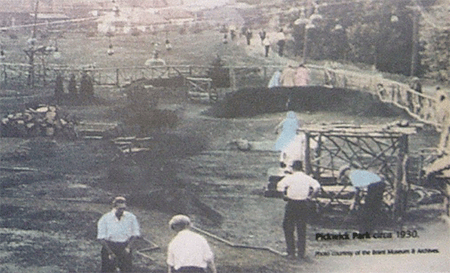 For a short period the site was a miniature golf course called Pickwick Park.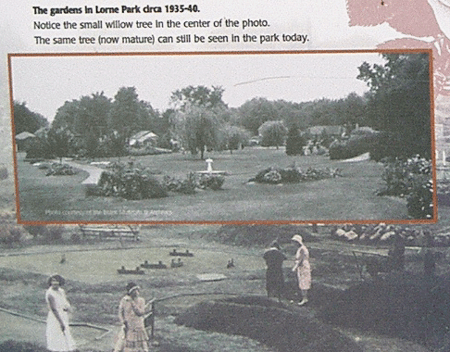 Notice the small willow tree in the center of the photo. The same tree (now mature) can still be seen in the park today. Take a look at the following picture.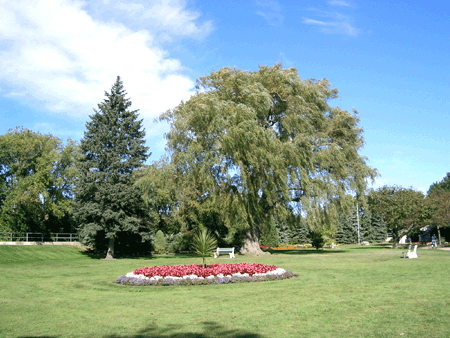 Lorne Park Brantford
Feast your eyes on the spectacular floral displays in Lorne Park, Brantford's premier horticultural garden. Click on the images below to
discover and experience bigger splendour.